Ange Postecoglou insisted Richarlison will receive all the support he needs after the Tottenham forward said he would seek help from a psychologist.
The Brazil international revealed during the international break that he has been affected by off-field issues, with reports that he has been in dispute with his representative, Renato Velasco.
Richarlison joined Spurs from Everton for £60m last summer but has scored just four goals in all competitions – and just once in the Premier League.
The 26-year-old was also seen crying on the bench after being substituted during Brazil's 5-1 win over Bolivia on Friday and, ahead of Spurs' Premier League game at home to Sheffield United on Saturday, Postecoglou said: "They all get whatever help and assistance they require.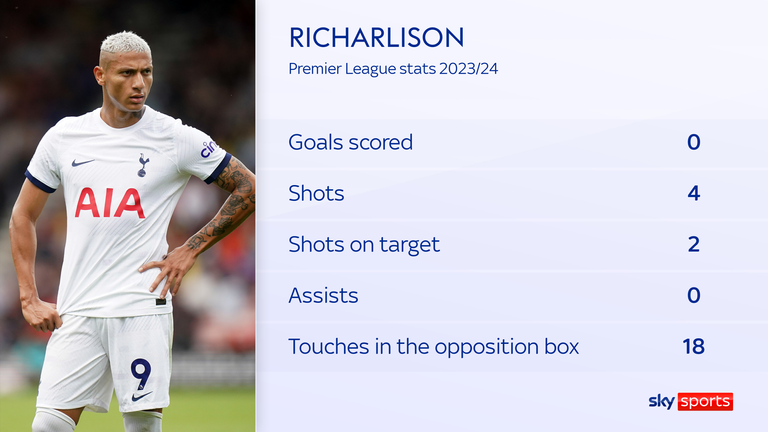 "It doesn't always happen in the public eye because most of it's done in-house. Sometimes they seek help and sometimes we offer the help. Whatever Richy needs, we'll help him get to the space he wants to.
"He was quite emotional after a game and that's fine. We'll give him the support he needs."
Postecoglou also questioned whether enough is done to support footballers' mental health, saying: "I think we do understand – it's just that we ignore it.
"Who in their life doesn't have something that's stressful? I lost my father three years ago and he should have been here for the journey. I had to deal with that. One part of your life could be flying but there's always something.
We think he's a footballer, he's got money – what's he got to complain about? There's plenty of people who we assume to have all the advantages in life who are pretty unhappy.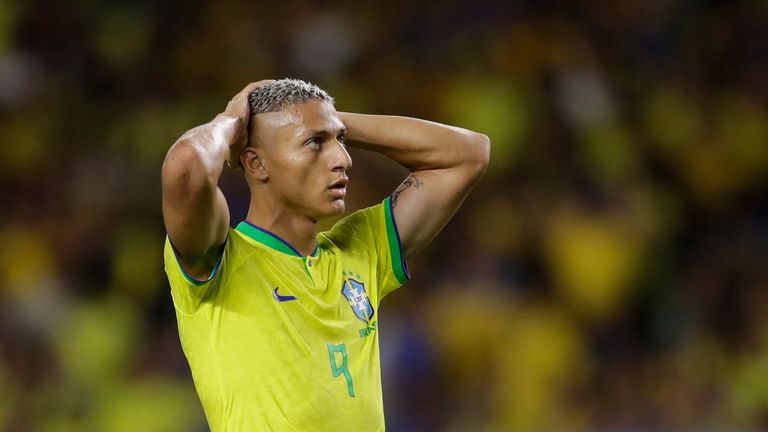 "For the most part, people understand that's the case and are empathetic. Sometimes people choose to ignore it because it makes a more impactful scenario. 'Fantastic footballer has problems' – they all do, mate. They all do.
"Footballers have got all the money they need and we think that's a perfect life, but it doesn't make you immune from life itself. I'm pretty sure everyone in our dressing room is dealing with something.
"Sometimes players fall into the trap of thinking their life should be perfect because of the position they're in, but that's not how life works. It's about keeping perspective and keeping a balance."
Richarlison: I went through a turbulent time
Richarlison – who has started three of Spurs' four Premier League games as the No 9 following Harry Kane's departure – told Brazilian media last week: "I'm a happy team player on the pitch. I try to help as much as possible.
"Sometimes things don't go the way we want. I think this part is a bit of the off-field side that ended up getting in my way.

Sunday 24th September 1:00pm


Kick off 2:00pm

"Even though you want to do things right, it ends up going wrong. I will continue to focus on the club. The storm has passed.
"I went through a turbulent time in the last five months off the pitch. Now things are fine at home. People who only had an eye on my money are no longer close to me.
"Now things will start to flow. I'm sure I'll get on a good run at Tottenham and make things happen again."
Asked about his emotional reaction to coming off against Bolivia, Richarlison said: "That sad moment wasn't even because I played poorly, in my opinion. I didn't put in a bad display.
"It was more of an outburst about the things that were happening off the pitch, which got out of control – not as far as I'm concerned but involving people who were close to me.
"I'm going to go back to England, seek psychological help from a psychologist to work on my mind. That's what it's about, coming back stronger.
"It's about getting into good form at Tottenham. I'm going to sit down and talk to them this week. I need to have a good run, get my match rhythm and get here in good shape."