The Dogecoin price has gained by 0.5% in the past hour, with its move to $0.062421 coming as the cryptocurrency market as a whole recovers by 1% today.
Despite being flat in 24 hours, DOGE is also up by 2% in a week, with its regathering of strength enabling it to briefly overtake Cardano (ADA) today as the eighth-biggest coin in the market (by cap).
However, DOGE is down by 2% in the past month and by 11% since the start of the year, although this could just as easily be taken as a sign that the meme token is oversold and due a rebound in the not-too distant future.
Dogecoin Price Prediction as DOGE Overtakes Cardano – Can DOGE Reach $1 in 2023?
DOGE has been sold heavily for the past month or so, but it now seems like it's moving into a position where it can begin posting some notable gains.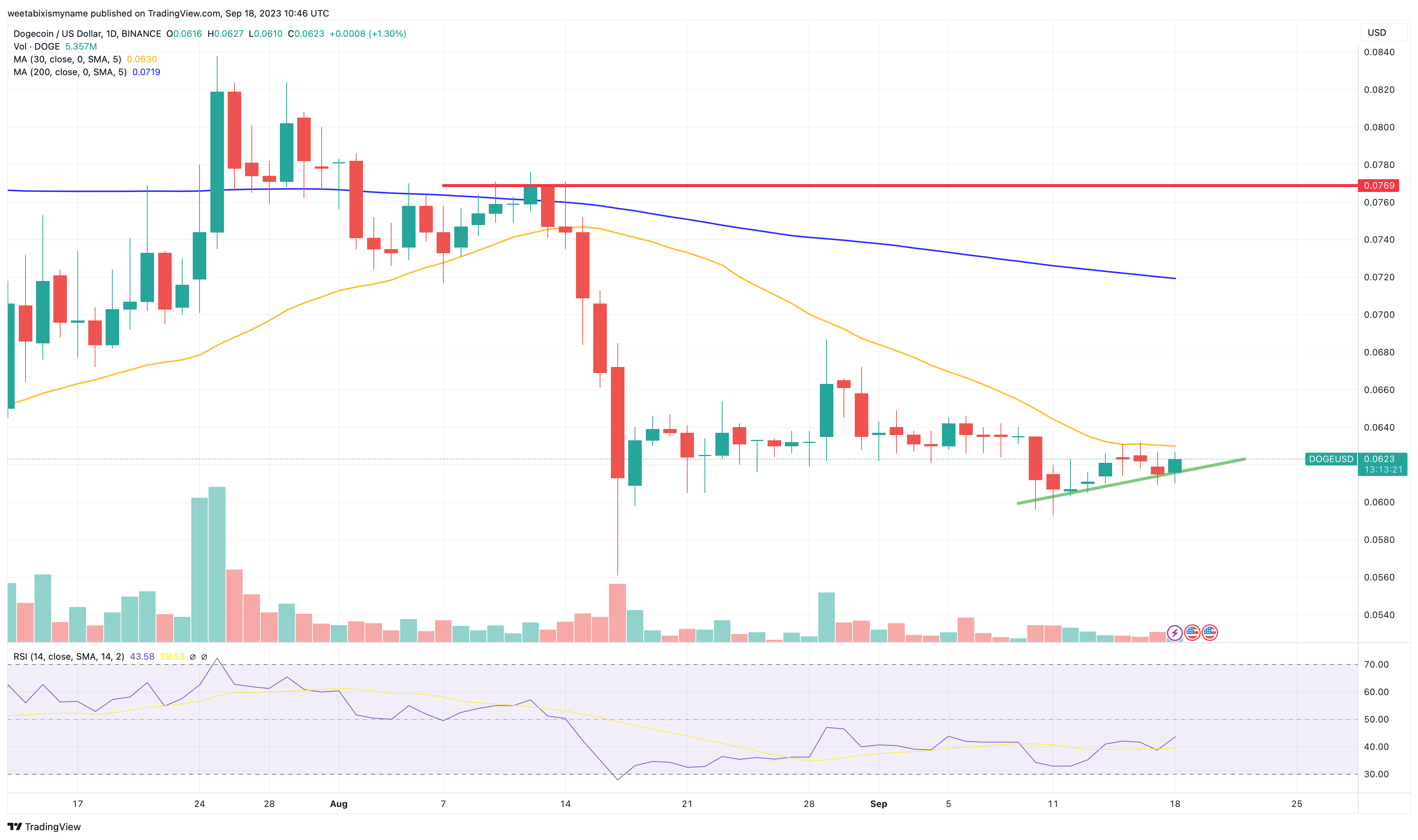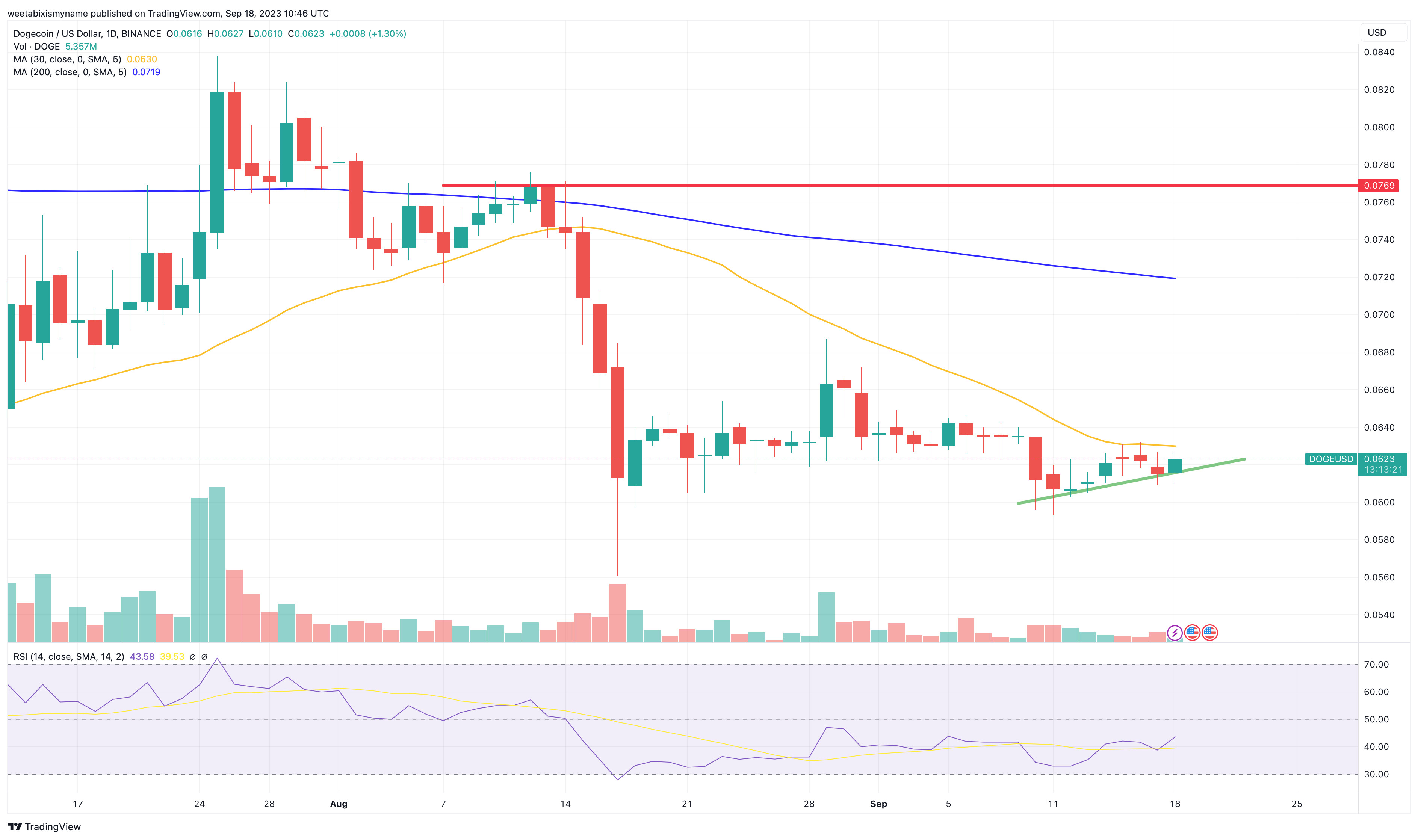 Interestingly, its 30-day moving average (yellow) has finished falling further below its 200-day average (blue) and has flattened out, implying that it and the coin's price are ready to resume climbing.
Similarly, DOGE's relative strength index (purple) is rising towards 50, having spent around a month between 30 and 40, which is a very undervalue position.
It's also encouraging to note that the coin's support level (green) has been rising over the past week, something which can be taken as a sign that it has indeed bottomed out and is ready to return to growth.
Of course, there's no immediate fundamental reason why DOGE should enjoy a rally anytime soon, with its discounted price being the main draw right now.
In fact, DOGE has recently experienced some bad news, with co-creator Billy Markus describing its community as "dead" in a recent Twitter post.
There may be some truth to this criticism from Markus, with Dogecoin itself seemingly having nothing to look forward to other than a possible (if very remote) integration with Twitter (now known as X).
As such, it's hard to see how DOGE could rally in a big way anytime soon, unless Elon Musk posts one of his semi-periodical references to DOGE on Twitter, or if some news emerges that the latter is moving closer to bringing digital payments to its platform.
The social network may indeed be doing just this, with it receiving a money transmitting license in the US (Mississippi) at the end of last month.
It may, however, still be some time before such a license leads to crypto – and DOGE – payments on Twitter, with there also being no guarantee that the social network would go beyond fiat payments.
But assuming that DOGE is added as an option at some point in the conceivable future, it would undoubtedly rally big.
Altcoins With Stronger Fundamentals
Because it may be a (very) long time before DOGE is ever added as a payment option on Twitter, most traders should be advised to expand their portfolios into other, more promising altcoins.
Presale tokens has been particularly profitable this year, with many outperforming the market when they list on exchanges for the first time.
One such token likely to do this is Launchpad.xyz (LPX), an all-in-one Web3 trading platform that has raised over $1.7 million during its presale.
Due for launch in the coming months, Launchpad.xyz is developing a platform that will feature a whole ecosystem of tools and resources, aimed at traders and investors of all skill levels.
Such features will encompass a play-to-earn gaming hub, AI-based analytics, trading signals, fractionalized assets, collaborative trading rooms and also automated trading bots, which together should help traders stay ahead of the often-unpredictable cryptocurrency market.
Next year will also see Launchpad roll out its very own decentralized exchange and an NFT marketplace, meaning that many of its users will have almost no need to use other platforms.
Making LPX even more attractive as an investment is the fact that it will be used with the Launchpad ecosystem to pay for fees and subscriptions, while it will also be open to staking.
New investors can buy LPX before it lists by checking out the official Launchpad.xyz website, with 1 LPX selling at a discounted price of $0.0445.
It's likely that the token will climb well beyond this price once it's added to trading platforms, with its strong fundamentals likely to make it one of the most successful new tokens of 2023.
Visit Launchpad xyz Now
Disclaimer: Crypto is a high-risk asset class. This article is provided for informational purposes and does not constitute investment advice. You could lose all of your capital.