Haven't you heard? It's the most wonderful time of the year, Ugg season. I can't be the only one who was counting down the days until I could wear my Uggs again. We've reached the third (maybe fourth?) year in a row where we're seeing Uggs trending in a major way, so we can now confidently say: these babies are here to stay. Whether yours are brand new or dusted off after having put them away 15 years ago, these fall-shoe essentials can be worn in more ways than just one. 
The great thing about styling Uggs is how versatile they are. You can style them with sweatpants or leggings (how we all used to rock them in high school) or dress them up with either a sweater dress or your favorite pair of jeans. When it comes to creating an outfit around your Uggs, we've found that layers are your absolute best friend. Plus, Ugg boots will keep your feet warm while keeping your look on-trend.
Have a pair of Uggs in your closet again? Keep scrolling for seven ways fashion girls are styling them this season.
1.
With a
blazer
,
a turtleneck
,
and a mini skirt
Keep your mini skirt active year round and wear it through fall and winter. Pair yours with a black turtleneck and blazer, and complete the look with Uggs and a shoulder bag. You can add a pair of tights for a little warmth and style as well.
Eloquii
Old Navy
3 colors available
H&M
3 colors available
Athleta
3 colors available
2.
With a
trench coat and a scarf
A trench coat, blanket scarf, and Uggs go together naturally like peanut butter and jelly. This fall uniform is perfect for days you need to look put together but want to stay warm at the same time.  Match your Uggs to your coat or change it up with a colorblock moment for fall. 
Abercrombie & Fitch
4 colors available
Madewell
Amazon
5 colors available
Old Navy
6 colors available
3. With an oversized sweater and jeans
For an effortlessly cool look, pair your Uggs with jeans and your favorite oversized sweater or sweatshirt. Then, top it off with fall accessories such as a handbag or tote—and a cup of coffee, of course. It's the perfect off-duty look for all of your casual fall activities.
Free People
5 colors available
River Island
2 colors available
Madewell
Madewell
2 colors available
4.
With trousers and a leather jacket
One of our favorite aspects about Uggs is how the shape serves as the perfect shoe to top off any outfit. The mule-like boot is the only shoe you need when the weather drops, and the variety of colors allows for easy styling. Combine two trends at once and wear your trousers with your Uggs. Top it off with a cool-girl leather jacket and you're ready for just about anything.
Abercrombie & Fitch
2 colors available
Wild Fable
Abercrombie & Fitch
17 colors available
Eloquii
4 colors available
5.
With gray sweats and a puffer vest
You don't need to be dressed up to be the most fashionable girl in the room. You can elevate your morning coffee run look with pieces you probably already have in your closet. Embrace your inner cool girl, and style your mini Uggs with a heather gray sweat set, puffer vest, and baseball hat. 
J.Crew
3 colors available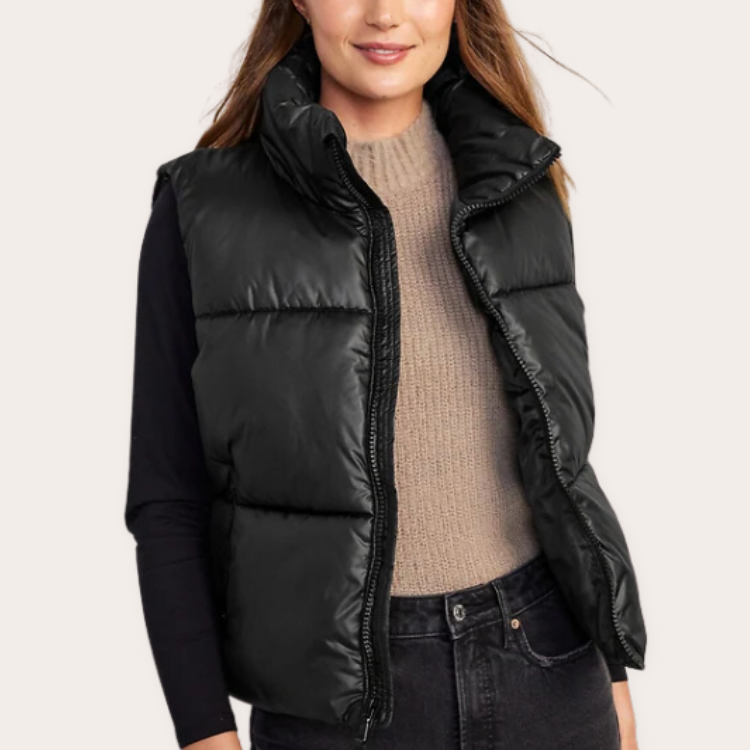 Old Navy
5 colors available
Old Navy
7 colors available
Los Angeles Apparel
15 colors available
6.
With lounge pants and a sweater 
Pairing your loungewear and Uggs just makes sense. We're loving the all-neutral look paired with the chestnut shade of Uggs, so it's time to let your beiges and grays do all the work for you. This is the perfect look to take in all the sights and sounds of fall. Cozy up on the couch or head out for a fall-drink, this look can do it all. 
Madewell
Lane Bryant
2 colors available
Abercrombie & Fitch
4 colors available
Athleta
7.
With a boxy jacket and baggy jeans
Oh would you look at that, I think we just found our official errand-look of the season. A loose pair of baggy jeans accentuates the Uggs oh-so-perfectly, and when combined with a boxy peacoat, the look can't get any better. Keep your accessories minimal for this look and let your oversized clothes do all the talking. 
Free People
Madewell
Levi's
Madewell
Our favorite Uggs
Fashion Girls Can't Get Enough of Ballet Flats—Here's How To Style Them