It is nine months since Jakub Kiwior's arrival at Arsenal but looking back on his dizzying, £20m transfer from Spezia, when he swapped a Serie A relegation battle for a Premier League title challenge, still brings a smile from the softly-spoken centre-back.
"The emotions were high from the very beginning – even from the moment I heard the rumours that they were interested in me," he tells Sky Sports in a quiet corner of the club's training ground. "That alone was huge for me. After that, I was very happy to sign."
He was happier still when, the day before his move was made official, he was invited to watch Arsenal's pulsating 3-2 win over Manchester United at the Emirates Stadium, a thrilling spectacle which showed him first-hand what he was about to walk into.
"If you are already with us, you are already with us," said Oleksandr Zinchenko as he pulled his new team-mate into the dressing-room celebrations afterwards. "The emotions were high then, too," adds Kiwior, smiling again. "I was really happy to be able to do that."
FREE TO WATCH: Highlights from Arsenal's 3-1 win over Manchester United

Arsenal had been monitoring him closely but the deal was a surprise to just about everyone else. Kiwior, 23, came with high potential but a low profile. He had only made his Poland debut six months earlier. Before joining Spezia in 2021, he was playing for Zilina in Slovakia.
No surprise, then, that Mikel Arteta chose to bed him in slowly. As well as being new to the level, Kiwior arrived with no knowledge of English. He had to wait two months to be handed his debut.
"I wanted to play minutes as soon as possible but I was told that I needed to be calm, that I needed time to settle in," he says, speaking with the help of an interpreter as he continues his efforts to learn the language.
"Those two months were important for me. It was a big change. I just tried to be focused in the training sessions and to get settled. The minutes eventually came, so it was a very valuable time."
He made his first appearance in the Europa League against Sporting in March. After that, following cameos against Crystal Palace and Liverpool, he excelled on his full Premier League debut, a 3-1 win over Chelsea which reignited Arsenal's title hopes – albeit temporarily.
"Every match is important but it was good for me that I played well against Chelsea," he says. "It motivated me to continue working hard.
"Then, scoring my first goal in the last match of the season against Wolves was special too. Of course, we were already winning, but it's always important to score your first goal for a club."
It was important, too, to make a positive impression on Arteta. "He is a player that I really like, that's why I signed him," said the Arsenal manager in May. "He has the potential, at his age, to be great."
Arteta is not alone in rating Kiwior highly. Robert Lewandowski, his Poland team-mate, raved about his "extraordinary" ability after his first international call-up last year. His steady progress at Arsenal ensures he is sure to feature more prominently this season.
Not that he has let the praise to his head. Kiwior is a quiet character whose shyness comes across in this, one of his first major interviews as an Arsenal player. But there is a steeliness to him too.
"It's very good to hear such positive words from your coach," he says of Arteta's comments. "It obviously helps to bolster your confidence. But I try not to think about it too much because I know it can have the countereffect as well."
Roy Keane believes Arsenal are currently Manchester City's strongest challengers for the title while Gary Neville thinks the Gunners aren't currently at their best

It is an attitude which should serve him well under a manager who strives for constant improvement and the admiration is mutual.
"I'm going to say what all the other players say – that the relationship and co-operation is extremely good, and his tactics as well," he says.
"He is able to convey what he means very well. Even if I wanted to say something negative, there is nothing negative to say."
Kiwior has been particularly impressed by the Spaniard's attention to detail, including the creative, motivational team talks glimpsed in the All or Nothing documentary two seasons ago.
"It's very different to what I was used to," he says. "Coming here, it's the first time I've seen this final meeting before going out on the pitch look like it does here. It's certainly something new.
Why Arsenal are out to end an Everton hoodoo at Goodison Park on Sunday

"I was quite surprised that something like this was even possible, that a coach could come up with these concepts to shape our attitude to the game through all sorts of competitions and challenges to focus our minds."
Kiwior typifies that focus as well as anyone. The Pole is still working to hold down a starting spot in Arsenal's defence but he gives off no sense of frustration at his inconsistent playing time; only a determination to seize his chances when they come.
"We have excellent players here. The level of competition is very high. But I'm happy that I am able to compete with such good players. Even if I'm not selected in the starting line-up, I'm trying my best.
"I'm happy whenever I'm able to help the team, so I don't perceive the competition as something bad."
Most of Kiwior's appearances so far have come in central defence but his tactical intelligence is such that he has also embraced the task of filling in as an inverted left-back. Back at Spezia, his ball-playing ability even saw him used in central midfield.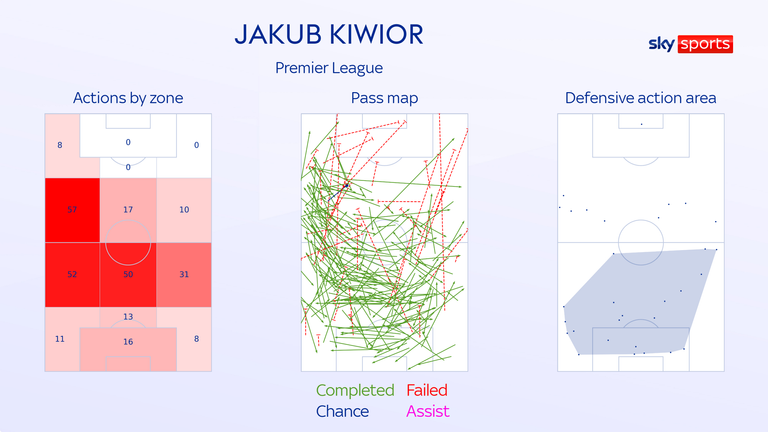 His versatility formed a significant part of his appeal to Arsenal. In fact, it was one of the first qualities mentioned by Arteta following the announcement of his arrival. Kiwior, for his part, just wants to help the team in any position he can.
"I still think my favourite and best position is centre-back but it's the coach who decides where I play and I always know where I'm playing before the match. Now, it's not that important for me. I just feel good playing. I'm happy as long as I have minutes on the pitch."
Kiwior seems relaxed about his prospects of playing more regularly. He learned the importance of patience and perseverance during a circuitous route to the top which also moulded the steely mentality with which he is approaching this new challenge in England.
At just 23, he has already played in five different countries, moving from Poland to Belgium to enrol in Anderlecht's academy as a teenager, then departing to Slovakia in search of first-team football and getting his move to Spezia three years later.
"It was very important for me to play in different leagues as a young player," he says. "Of course, playing at first-team level at a young age, there were big expectations and I learned a lot.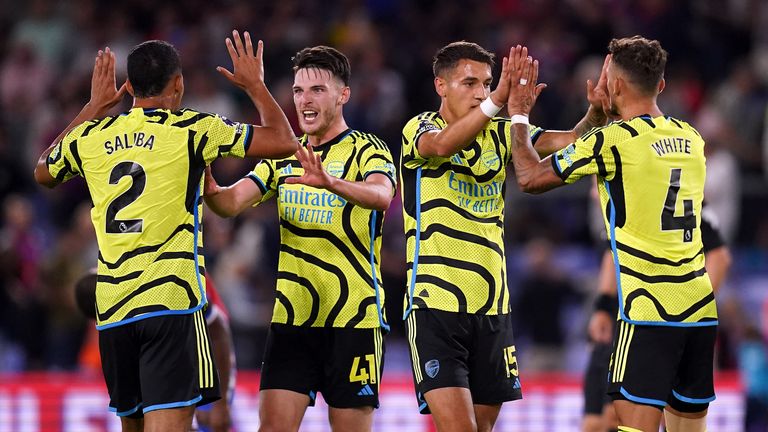 "It was difficult to get here. Arsenal is one of the biggest clubs in the world and it's an honour to play for them. But my previous experience was very important too. I have to thank all the clubs I played for before."
His time in Serie A, a proving ground for young defenders, was particularly valuable. "It helped me, not only during training sessions, but also the matches. It was the best lesson I could have as a defender, to be able to experience that football every week."
His 18-month spell there set him up for his next step but did he ever dream it would come at a club as big as this? Kiwior shrugs. "I'm not sure I actually dreamed about it," he says, "but I focused on doing it and I'm happy that I have achieved that goal."
Now, his focus is to establish himself in this Arsenal team and help them go one better than last term. "Every player wants to fight and get three points in every match," he says. "We led the table last year. This time, we hope we will be able to keep it up until the very end."
Jakub Kiwior, their softly-spoken centre-back with the attitude to match his ability, is more than ready to play his part.
Watch Everton vs Arsenal live on Sky Sports Premier League from 4pm on Sunday; kick-off 4.30pm